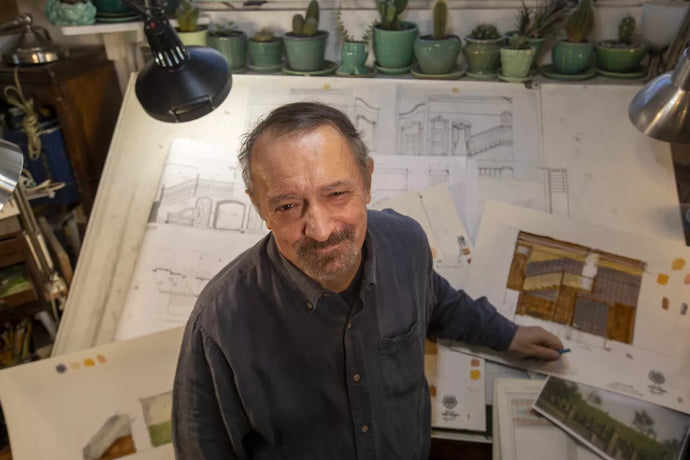 There are times when you meet someone and you just know that they are magic
That was my friend, Giovanni. 
he walked in one afternoon very quiet and very deliberate at the way in which he touched and spotted items...I knew right away that he was an artist. we really didn't chat until I saw his name  and then the friendship began.
An Italian who was very proud of his heritage I told him of our Italian classes and he joined. Elisabetta would tease him as he stumbled, as we all stumbled, it was great fun.
Little by little I would "interview" Giovanni , he was very humble about his career and his accomplishment.
i would share my ideas about transforming the shop for Christmas ...how could i build this...what kind of material would i use ...he would start slow and with enthusiasm help me see. He Knew how to see.  he was generous.
John loved Venice and he knew Sergio Boldrin ,my friend, the mask maker.
Pergolina was having an exhibit and festa for Sergio I had told Giovanni,
but he wasn't feeling well and couldn't make it, however the next day he walked in
I asked him to stay, jumped in my car and picked up Sergio.
He Walked into the shop and surprised John.  These are the moments that give me the most joy. Two Italian artist at Pergolina sharing memories.
This is my memory of a delicious man who hugged me tight and helped me to see.
I will miss our visits Giovanni, ciao e baci